Summer Solstice, Picnics, Skinny dipping, + More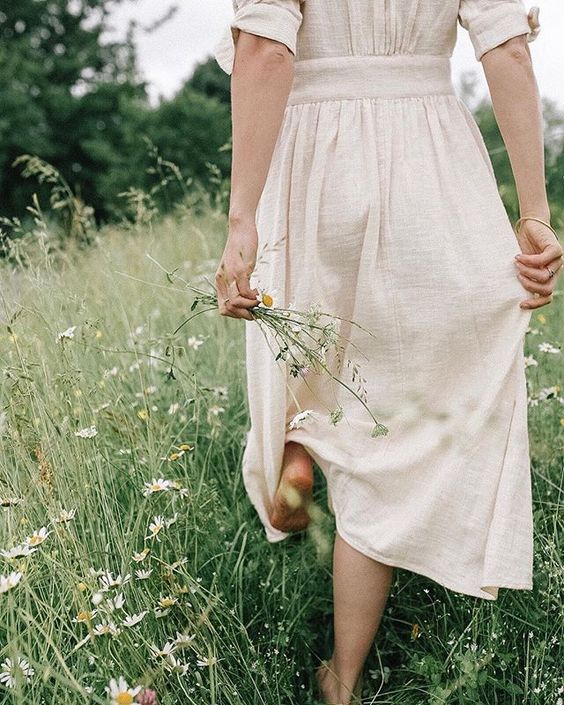 Summer Solstice + The Energetic Shift
Although we may have started celebrating summer post-memorial day, it is not until the solstice that we officially enter the season of summer. In energetic terms, Spring is perfectly balanced between yin and yang energy, but as we move into summer, the season of yang, much changes, and we need to shift accordingly.
The yang energy of summer is best characterized by long, hot, sunny days. We find ourselves more energetic and bright, often finding ourselves saying "yes!" more than "no!". We are fiery, inspired, and starry eyed. While this energy is often a welcomed gift after months of cold weather and hibernation, it is important to harness this passion and creativity properly, avoiding burnout.
To avoid being burned by the yang of summer (this often shows up as headaches, dryness, burned skin, dehydration, etc), make sure you are incorporating yin energy into your routine every day! This can look like swimming in natural waters (skinny dipping is best, y'all!), drinking plenty of water (see infused water recipes for inspo!), eating cooling foods (peep the herbal popsicle tutorial), and spending lots of time grounding in nature (the Earth is a great source of yin energy) like running barefoot through cool grass or napping under a shady tree.
Out of all the seasons, I feel that Summer's rituals are the easiest going and most intuitive. In fact, I considered removing this entire section of the ceremony page, but based on the feedback this is often one of the most cherished corners for our members! Listed below are three summer rituals that bring me such joy this time of year.
As many of our founding members know, I make a bucket list at the beginning of every season. I find that this practice grounds me so deeply into the season, really cultivating the experience I want to call in and celebrate for the time being.
For this practice I highly recommend grabbing a pen and paper and listing out everything you want to do this summer. The big adventures you are manifesting, the summertime classics that make your heart skip a beat, and even the little things that you'd like to give a try for the first time.
You can add and remove things as the summer rolls on, but do try to check everything off your list. It's so satisfying looking back and seeing what fun you've had!
Here is what's on my list so far, although I can guarantee I'll be adding a ton more to my list as the inspiration flows through!
Tending the summer garden…
If you started a garden this Spring, it's important to note that caring for a garden during the Summer requires a bit more attention and finesse. Follow the following top three tips to make sure that you get the best out of the growing season!
1. Water early in the morning, and even consider watering twice per day. Its best to water first thing in the morning so that your plants are able to drink the water up before the soil dries out in the sun. It's also best to do your primary watering in the AM as opposed to the PM to avoid things like mold and mildew growing, although a little drink in the PM on extra hot and dry days are strongly encouraged.
2. Make sure you are planting what grows well in your area, and that you are planting it in the right conditions (and location!). Depending on your growing zone and your climate, certain plants will struggle and some will thrive, so talk to your local nursery if you need help figuring out what your plants need. It's also important to note that moving your plants around your garden until you find the perfect spot is highly advisable—direct sun isn't always best, especially in the hot sun!
3. Commit! This is the hardest part about tending a garden in the summer. With road trips, weekend getaways, and days spent away from home, your garden will become very stressed without consistent care. Have someone garden sit if you can!
As I mentioned previously, the yang of summer must be balanced with yin activities such as spending time in cool water. For those who don't live by a beach, river, or lake (or even if you do!), ritual baths are an excellent way to wind down and cool the body from the heat of summer (and baths use less water than showers, yay!). Depending on what you add to the water, a cool bath can help tame inflammation, dehydration, sunburn, and swelling that many of us experience at one point or another during the warmer months. Below I share a simple summer bath ritual that leaves one feeling cool, refreshed, and deeply relaxed.
Ritual
Draw a temperate bath (not too hot, not too cold) and add one pound of epsom salts. This will help detoxify, ground, and depuff the body.

As the bath is filling, dry brush the entire body. This removes dead skin cells, gets the lymph moving, and invigorates a stagnant body.

Add a few drops of your favorite essential oil (I like eucalyptus or grapefruit in the morning, and lavender in the evening) and then slip into the bath.

While you soak, consider doing a face mask, meditating, journaling, or whatever will help get you to "the place" you want to be at that point in time

End with a cool rinse. You can do this two ways—option one is to drain some of the water in the tub and replace it with cold water, or option two (which I prefer) is to drain the tub entirely, and then turn the shower on a cold blast for 30 seconds making sure to focus on the trunk of your body.

After the cool rinse, pat yourself dry and apply an herbal body oil from head to toe to hydrate the skin. Although this is important year round, when we bare more skin in the summer it becomes an extra important step!

Finish off with a room temperature glass of water to hydrate from the inside out. Voila!